We're getting very excited for Viva Las Vegas!
Have you made your reservations yet? For those of you who aren't familiar with our beloved VLV, the event that makes rockabillies tick, and made "How Many Days?" into a common phrase, here's the scoop! Viva Las Vegas is a rockabilly culture weekend that takes place once a year at the Gold Coast Casino and Hotel in Las Vegas. Historically it has always been held on Easter Weekend. The dates for this year's event are Thursday April 5 - Sunday April 9, 2007. There are world renowned rockabilly bands and artists performing every night until after 2 am (both new artists and legends from the 1950s and 1960s), dancing until you drop (often until after 5am), vintage and retro vendors of all sorts (We'l be there!), a mind blowing car show all day Saturday, a burlesque competition with the winner taking home money and prizes, a jive (dance) competition with the winners also taking home money and prizes, and a great excuse to sport all of your finest vintage and retro threads and accessories, while drinking with like minded souls! Don't forget to bring a little extra dough for the blackjack and craps tables too!
More info about tickets and hotels can be found by clicking the photo!
Of course, The Diva Pinup will be there! You can find us in two places during the weekend:
1. Sweetpea's Hooch and Smooch : A killer meet and greet "pre-party" that takes place in the East Lounge of the Gold Coast Casino on Thursdat from 2-9pm, before the doors open for the main event. Come by, hear some awesome bands, and meet some of the most awesome people in the Rockabilly world over a boot full of Pina Coladas or PBR. There is NO COVER and you are guaranteed to have an awesome time! The Diva Pinup is co-sponsoring this killer party, so be sure to swing by! All Viva Las Vegas pre-orders will be available for pick up there from 2pm until 9pm.
2. Find our
Rockin' Roller Gals on Roller Skates at the VLV Car Show!
We will, once again, be rockin' and rollin' our way through the Car Show with all of our hair flower accessories to sell! Grab a Rockin' Roller Gal for a photo and pick up a hair flower to match your car show pinup outfit!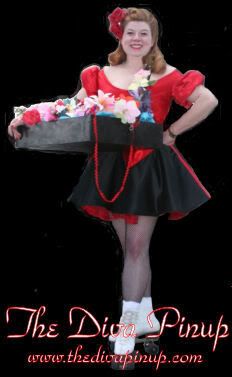 Don't forget to place your orders for the Official Bettie Page Rose!
We'll see you in Vegas!
Tags: hooch and smooch, rockabilly, roller, sweetpea, viva las vegas, vlv, weekender
Current Mood:
excited